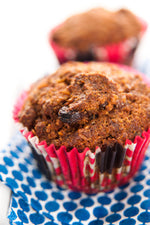 Camelina oil is perfect for baking! Healthier, full of Omegas 3, 6 & 9 and a light nutty flavour. These muffins are always a hit!
Ingredients
1 cup all purpose flour
1 cup whole wheat flour
¾ cup sugar
2 tsp baking soda
2 tsp ground cinnamon
¼ tsp salt
1 beaten egg
½ cup camelina oil
½ cup unsweetened apple sauce
2 tsp vanilla
2 cup chopped apples (unpeeled)
½ cup raisins
3/4 cup grated carrots
2 tbsp chopped pecans
Instructions
Preheat oven to 350 degrees F.
In a large bowl, combine flour, sugar, baking soda, cinnamon and salt.
In a separate bowl combine egg, oil , apple sauce and vanilla. Stir in apples, raisins and carrot.
Add flour mix to liquid mix and blend to moisten, but do not overmix. Some lumps are ok.
Spoon into lined/oiled muffin tins and sprinkle with pecans.
Bake about 35 minutes or until the muffin will spring back when you lightly press on it.