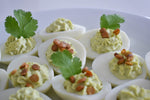 Ingredients:
1 dozen large eggs
2 tbsp mayonnaise
1 tbsp yellow mustard
½ cup of green pea puree (if you want to make them green and add some sweetness)
Salt and Pepper, to taste
Roasted BBQ Lentils
Ice Bath: Large bowl with water and lots of ice to cool the eggs quickly.
Instructions:
Place the eggs in a medium pot, cover with water and bring to a boil. Once the water has boiled, reduce to a simmer for 12 minutes.
Drain and remove from the water and place directly in the ice bath too cool. This will not only help them cool quickly but will make it much easier to peel the shell.
Peel the eggs and slice in half. Remove the yolks into a bowl and place the whites on a platter. Mash and mix the yolks with the remaining ingredients (mayo, mustard, pea puree, salt and pepper). Using a spoon or piping bag, portion the mixture back into each egg white.
Sprinkle each egg with Three Farmers Roasted BBQ Lentils for added flavour and crunch.
Serve.