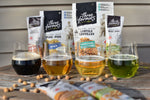 Beer may be the first thing that comes to mind for your St. Patrick's Day festivity, but a good snack is just as important! While stout might be the iconic Irish beer, lager is actually the most popular. Here are Chef Elysia's recommendations to bring out the best in your beer and your Three Farmers Roasted Chickpeas, Lentils and Peas.
Green Beer — Dill Pickle Peas or Sea Salt and Lime Chickpeas bring out the crisp, easy drinking flavours.
Light Beer — Sea Salt and Vinegar Lentils or Sea Salt and Lime Chickpeas. Just the right amount of savoury, salty goodness.
Lager — Try the creamy rich flavours of Ranch Peas or Turmeric and Spice Chickpeas. Both winning combinations. 
Stout – These dark beers are creamy, just this side of bitter and rich. Pair with BBQ Lentils or BBQ Chickpeas.