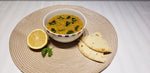 Here is another nutritious kitchen creation from Three Farmers dietitian, Heather Deck PDt(c).
Ingredients
1 ½ Cups Red Split Lentils, rinsed
3 Cups Vegetable Broth
½ Cup Coconut Milk
1 Carrot, Cubed
1 Onion
3 Cloves of Garlic, Minced
2 Cups Fresh Spinach
3 Tbsp Three Farmers Original Camelina Oil
1 tsp Curry Powder
½ tsp Cumin
1 tsp Turmeric
½ tsp Cinnamon
2 Tbsps. Freshly Grated Ginger
2 Tbsps. Green Curry Paste*
Juice from 1 Lemon
Directions
In a large pot on medium heat, sauté garlic and onions in Three Farmers Original Camelina Oil.
When the onions have become transparent, add lentils, carrots, ginger, spices and water. Bring the lentils and water to a boil and cook uncovered for 10 minutes, stirring frequently to prevent the lentils from burning.
Add the coconut milk, lemon juice and spinach to the pot and let simmer until the spinach has completely wilted.
Serve on its own with naan bread for dipping, or on top of whole grain basmati rice.
*Add extra curry paste if you would like a spicier Dal.
Leftover Dal makes a for a quick and delicious lunch for the next day!