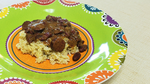 Ingredients:
1 Pound Dry Kidney Beans
¼ Cup Three Farmers Original Camelina Oil
1 Large Onion, Chopped
1 Green Bell Pepper, Chopped
3 Cloves of Garlic, Minced
2 Celery Stocks, Chopped
6 Cups of Water
2 Bay Leaves
1 tsp Dried Thyme
1 tsp Dried Sage
1 Tbsp Dried Parsley
1 Tbsp Cajun Seasoning
4 Andouille Sausages, Sliced
4 Cups of Water
2 Cups of Long Grain Grown Rice
Directions:
Rinse the red kidney beans and soak in a large bowl of water overnight

In a saucepan, heat the Three Farmers Original Camelina Oil on medium heat. Add the onions, garlic, bell peppers and celery and sauté until soft, about 3 to 5 minutes.

Rinse the soaked beans and place in a large pot. Add the 6 cups of water, the cooked vegetables, the bay leaves and the seasonings and combine. Bring the mixture to a boil and then reduce the heat to medium low and allow to simmer for 2 ½ hours.

Stir in the sliced sausages and allow to simmer for another 45 minutes.

Meanwhile, place the long grain brown rice and 4 cups of water into a saucepan and bring to a boil. Reduce the heat and allow the rice to simmer with the lid on until all the water has been absorbed.

Serve the beans on top of the steamed rice.
Recipe compliments of Three Farms dietitian - Heather Deck, RD