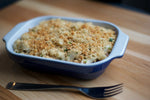 This recipe come to us via Marni Wasserman from Marni Wasserman's Food Studio and Lifestyle Shop.
Ingredients
1 small onion, cut into thin slices
1 tbsp camelina oil
1 cup wakame (Japanese seaweed) soaked in cold water for 5 minutes, removed, and chopped
2 tbsps tamari
1 package of brown rice noodles or quinoa spiral noodles
¾ cup water
½ cup tahini
5 tbsp tamari
½ cup wheat free/gluten free/brown rice bread crumbs
Instructions
Preheat oven to 375 F. Sauté onion in camelina oil until transparent. Place wakame on top of onions. Add tamari, and cook for about 10 minutes until the liquid is absorbed. In the meantime, cook noodles until done. Drain and set aside. Mix together tahini, tamari and 3⁄4 cup water until smooth. If the sauce should curdle, continue mixing. Mix onion, wakame mixture, noodles and tahini sauce together. Cover with breadcrumbs. Bake for approximately 20 minutes.