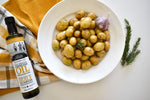 Ingredients
2 lbs Small Yellow Potatoes
3 tbsp Camelina Oil
1-2 tsp Garlic Powder
Salt and Pepper to Taste
Instructions
Preheat the oven to 400F. Line a large baking tray with parchment paper. Scrub the potatoes thoroughly and pat dry.
In a large bowl, drizzle the potatoes with Camelina Oil. Toss to coat. Sprinkle the salt, pepper and garlic powder and toss again to coat thoroughly.
Pour potatoes out onto the prepared pan and bake 35-40 minutes or until potatoes are tender when pierced with a knife.