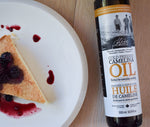 Switch up your desserts with a heart healthy alternative to your regular oils and fats while enjoying a delicious nuttiness flavour from our Camelina Oil.
by Elysia Vandenhurk
Ingredients
6 Tbsp unsalted butter
2/3 cup of Three Farmers Camelina Oil
2 cups white sugar
1 Tbsp vanilla extract
2 2/3 cups all-purpose flour
1 Tbsp baking powder
1 tsp salt
1 cup milk (milk of choice)
6 large egg whites
Ingredients
Preheat oven to 350F and prepare a 12 inch round cake pan (or 2 small 8inch) with Camelina Oil around the bottom and sides and parchment lined on the bottom.
In a stand mixer, beat butter on medium speed until light and creamy.
Add sugar and Camelina Oil and mix until well-combined. Scraping down the sides of the bowl to ensure even mixing. Add vanilla.
In a separate bowl, mix together flour, baking powder, and salt.
With mixer on medium speed, gradually alternate between adding the dry mixture and the milk to the wet mixture, starting and ending with the flour mixture. Stir until each one is almost completely combined before adding the next and ensure to occasionally scrape down the sides of the bowl.
In a separate bowl, beat or whisk your egg whites until soft peaks form.
Using a spatula, gently fold your egg whites into your batter until well combined.
Evenly divide cake batter into prepared pans.
Bake on 350F for 35-40 minutes, or until a toothpick inserted in the centre of each cake layer comes out clean.
Remove cakes from the oven and let them cool for 15 minutes before removing from the pan.
If applying an icing, ensure the cake is fully cooled. Or, serve warm with berries.