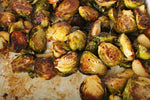 Still in season. Don't let these delicious morsels pass you by.
1-1/2 pounds brussels sprouts, washed, slice off bottoms and halved
3 tablespoons Three Farmers Camelina Oil
3/4 teaspoon coarse salt
1/2 teaspoon freshly ground black pepper
1 tbsp balsamic vinegar
1 tbsp honey or brown sugar
Heat the Camelina Oil in a sauté pan on high heat. Add the Brussel Sprouts and sauté until beginning to brown. Season with salt and pepper. Lower the heat to medium and toss in the honey or brown sugar. Stir and let the sugars caramelize and brown slightly (Approx. 6 min). Add the balsamic vinegar and continue to stir and reduce the balsamic liquid.
Serve warm.