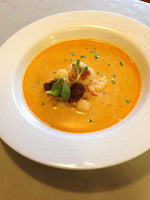 This Creamy Lobster Bisue with caramelized scallops and Three Farmers camelina oil dark rye crostini is garnished with fresh chives and sunflower sprouts. This recipe was part of the amazing meal created for the catering package that was auctioned off last month for the
Saskatoon Food Bank and Learning Centre
to NHL player Eric Gryba.
Paired with Oyster Bay Chardonnay – New Zealand
Ingredients: Serves 6
Lobster Broth:
2 tablespoons Three Farmers camelina oil
6 cloves garlic, smashed
3 carrots, roughly chopped
2 ribs celery, roughly chopped
4 large shallots, roughly chopped
1/2 teaspoon sea salt
Freshly cracked pepper
1 cup good white wine
6 cups vegetable stock
1/3 cup tomato paste
4 cooked lobster carcasses
2 bay leaves
1 cup heavy cream
Croutons
:
6 slices dark pumpernickel rye bread, diced large
1 tbsp Three Farmers camelina oil
Salt and pepper to taste
Scallops
:
1 tablespoon unsalted butter
1 tablespoon Three Farmers camelina oil
12 large sea scallops, dried
Salt and pepper to taste
Instructions:
Lobster broth
:
Heat a large pot on medium and add camelina oil, garlic, carrots, celery, and onions.
Saute for approximately 10 minutes and season with salt and pepper.
Deglaze the pan with white wine and cook off the alcohol.
Add the vegetable stock, tomato paste and lobster carcasses to the pot (top off with water if necessary to just cover the shells).
Simmer for approximately 1 hour.
Strain with a fine sieve or cheesecloth and place the broth back on the stovetop in a pot.
Add the heavy cream and let reduce on medium-low heat until thick, another 15 to 20 minutes.
Remove the lobster meat from the shells and dice into large chunks.
Set aside for plating.
Croutons
:
Preheat the oven to 325F.
In a bowl, drizzle the camelina oil over the bread cubes and toss to evenly coat.
Season with salt and pepper and toss again.
Place on a sheet pan and put in the oven until toasted. Approximately 10 minutes.
Remove from the oven and let cool completely on the pan to ensure they dry out and are crispy.
Scallops
:
Remove the tough abductor muscle from the side of each scallop.
Rinse them under cold water to rid of any grit. Pat the scallops dry with paper towels. If the scallops are wet they will not brown properly.
Heat a nonstick skillet over medium-high heat for 1 to 2 minutes.
Add the oil and butter and when quite hot put the scallops in the pan ensuring not to crowd them.
Season with salt and pepper and let sear undisturbed until one side is browned and crisp, 2 to 4 minutes.
Using tongs, turn the scallops and sear until the second side is well browned and the scallops are almost firm to the touch, 2 to 4 minutes.
Take the pan off the heat.
Serve:
Place the large chunks of lobster in the center of a shallow soup bowl.
Now place the seared scallops on top to create some height in the center of the bowl.
Pour the hot broth into the bowl slowly to avoid splatter.
Garnish with some fresh herbs or croutons and serve.