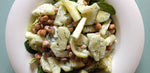 Ingredients
3 large cucumbers, peeled, sliced lengthwise and then diced 1 cup of Three Farmers Balsamic & Cracked Pepper Chickpeas
Dressing:
4 tablespoons of plain greek yogurt 1 tablespoon of dill 1 tablespoon rice vinegar tsp sugar tsp salt tsp pepper tsp garlic powder
Method:
Combine cucumbers and roasted chickpeas in a large bowl. Mix dressing ingredients together and pour over cucumbers and chickpeas. Toss to combine.
Optional:
Serve over a bed of romaine or spinach for extra green goodness.