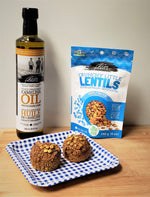 These nutrient packed muffins are low in saturated fat, low in sodium and jam packed with fibre, all dietary factors important for heart health!
Recipe compliments of Three Farmers dietitian Heather Deck, RD.
Ingredients
2 Medium Ripe Bananas
2 Eggs
¼ Cup Molasses
¼ Cup Honey
¼ Cup Unsweetened Applesauce
1/3 Cup Skim Milk
2 Tbsp Three Farmers Original Camelina Oil
1 tsp Vanilla
2 Cups Wheat Bran
2 Cups Whole Wheat Flour
1 Cup Quick Cook Oats
1 tsp Cinnamon
1 ½ tsp Baking Powder
½ tsp Baking Soda
½ Cup Dark Chocolate Chips
Three Farmers Crunchy Little Lentils, Lightly Salted flavor (Optional add in if you would like to add a crunch factor and increase the protein and fibre content)
Directions
Preheat the oven to 350 degrees and prepare 2 standard muffin pans.
In a large bowl, mash the two bananas.
Add in the eggs, apple sauce, milk, Three Farmers Original Camelina Oil, honey and molasses and mix until everything is combined.
In a medium bowl, add the flour, wheat bran, oats, baking powder, baking soda and cinnamon. Stir the dry ingredients until combined.
Pour the dry ingredients into the large bowl of wet ingredients. Stir the mixture until the dry ingredients are combined but be careful not to overmix the batter.
Add the dark chocolate chips and the Three Farmers Crunchy Little Lentils if desired. Mix gently.
Evenly distribute the muffin batter into 24 muffin tins. I find an ice cream scoop or a liquid measuring cup with a spout is helpful to ensure even distribution without a huge mess.
Bake at 350 degrees for 19 minutes.
Without Crunchy Little Lentils
With Crunchy Little Lentils
Great Value Banana Chocolate Chip Muffin (Walmart)