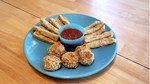 Ingredients
2 Cups Three Farmers Roasted Chickpeas, Lightly Salted
½ Cup Graded Parmesan Cheese
1 Tsp Salt
½ TBSP Pepper
1 TBSP Dried Parsley
1 TBSP Garlic Powder
1 TBSP Onion Powder
1 Block of Firm Mozzarella Cheese
2 Zucchinis
15 White Button Mushrooms
2 Eggs
1 Jar of your favorite marinara or pizza sauce for dipping 😊
Directions
Remove the stems from the mushrooms, wash and set to dry
Cut the zucchini into evenly sized sticks. Cut the Mozzarella cheese into the similar, evenly sized sticks.
Add all the Three Farmers Lightly Salted Roasted Chickpeas to a food processor, pulse until the chickpeas have become a fine powder. Place the ground chickpeas into a large bowl, add the garlic powder, onion powder, dried parsley, salt and pepper and mix. Set the bowl to the side.
In a medium bowl, crack two eggs and whisk well.
Dip the mushrooms, zucchini sticks, and mozzarella sticks into the egg mixture a few pieces of a time. Make sure that each piece is fully coated in egg.
Place the sticks and mushrooms that are coated in egg, into the ground chickpea mixture. Toss the sticks and mushrooms around, ensuring all sides are covered.
Repeat steps 6 and 7, dipping the breaded mushrooms and sticks into the egg and again into the ground chickpea mixture.
Place the mushrooms and zucchini sticks on a cookie sheet and into the fridge.
Place the mozzarella sticks onto a cookie sheet and into the freezer for 2 hours.
Once 2 hours have past, pre-Heat the oven to 425 degrees. If there is room, transfer the mozzarella sticks onto the cookie sheet with the mushrooms and zucchini.
Bake in the oven for 20 making sure to flip each piece once half way through the baking process.
Serve with your favorite marinara sauce or pizza sauce and enjoy!
Recipe compliments of Three Farmers dietitian – Heather Deck, RD