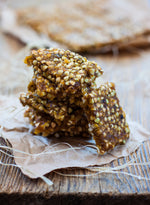 Need a new a breakfast or snack idea? Give this super easy homemade granola a try made with Thee Farmers Camelina Oil. Top it with yogurt and a banana, pop it in kids lunches as a crunchy snack or crumble it over frozen yogurt for a guilt-free treat. Make sure you make a large batch because it won't last long!
Ingredients:
3/4 cup raw organic almonds
1/3 cup pumpkin seeds
3 cups sprouted buckwheat kernels
1/4 cup quinoa flakes
1/4 cup sesame seeds
1/4 cup Chia seeds
1 tsp cinnamon
1/2 tsp cardamom
1/2-3/4 cup organic dried cranberries, blueberries or Saskatoon berries
1/2 tsp salt
3/4 cup Three Farmers Natural Camelina Oil
1/2 cup pure maple syrup
1/4 cup black strap molasses
1/4 cup agave nectar
Method:
Preheat oven to 350. Mix all dry ingredients together, add all wet ingredients and mix very well. Spread out on your baking sheet and bake for approx. 20-30 min, stirring every 10-12 minutes until your granola is golden brown. Take out of oven and allow to cool before breaking up chunks and placing in an air tight container. Keeps in the cupboard for about 2 weeks.