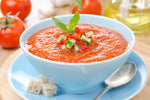 This recipe comes to us from Matthew Kadey. Matthew is a Registered Dietitian Nutrition and Travel Writer, Professional Recipe Developer, Travel and Food Photographer AND Cookbook Author. This gazpacho is perfect for a hot summer day!
3 medium sized tomatoes, halved
1 red bell pepper, quartered and seeds removed
1/2 cup orange juice
4 radishes, quartered
1/2 English cucumber, chopped
2 garlic cloves, chopped
2 green onions, chopped
2 Tbsp fresh oregano
2 Tbsp red wine vinegar
1/2 tsp salt
1/4 tsp chipotle chili powder
1/4 tsp black pepper
2 Tbsp camelina oil
2 oz feta cheese, diced
Microgreens, garnish (optional)
Preheat grill to medium heat. In a large bowl, toss tomatoes and red bell pepper with some oil. Grill vegetables, flipping them at least once during grilling, until they begin to char. Let vegetables cool.
Add grilled vegetables along with orange juice, radishes, cucumber, garlic, green onion, oregano, red wine vinegar, salt, chili powder, and black pepper to a food processor or large blender container and blend until just slightly chunky. With the machine running, slowly pour in camelina oil through the feed tube until incorporated. Chill soup for at least 2 hours in the refrigerator before serving.
Garnish options include feta cheese, goat cheese, chopped chives, diced avocado, or microgreens.