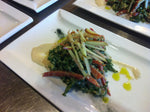 Recipe from
Doug McNish
This recipe provides an easy way to marinate kale for a simple salad that can be enjoyed as an appetizer or main course. The trick is to cut it thin enough so that the high quality oil, lemon and salt can penetrate and soften the greens. I find that the mildly nutty flavour of the Camelina Oil compliments the slightly bitter kale. Makes 2 main course portions
¼ cup sundried tomatoes, soaked (see Tips, below)
1 head of green curly kale thinly sliced
3 tbsp Camelina Oil
2 tbsp fresh lemon juice
¼ tsp fine sea salt
½ cup finely sliced red pepper
¼ cup walnuts,
3 tbsp hemp seeds, divided
2 tbsp raisins
1 small avocado cube
½ cup finely sliced apple
In a bowl, toss kale, Camelina oil, lemon juice and salt until well combined. Set aside to marinate for 5 to 10 minutes.
Toss marinated kale with soaked sundried tomatoes, red pepper, walnuts, 2 tbsp hemp seeds, raisins and avocado with 1 cup Lemon Tahini Dressing.
Divide the kale salad between two plates and garnish with a drizzle of tahini dressing, sprinkling of hemp seeds and top salads with finely sliced apple. Serve immediately.
Tips
- To soak the sundried tomatoes for this recipe, place them in a bowl and cover with 1 cup hot water. Cover and set aside to soak for 30minutes. Drain discarding water