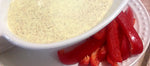 This is a tangy, light and summer dressing created by Doug Mcnish used for a simple crisp romaine lettuce salad or as a garnish on a plate with steamed greens. You can also try using this recipe as a healthy substitute for creamy whipped mayonnaise.
Ingredients
1 cup water
1/3 cup lemon juice
½ cup Dijon mustard
2 tbsp chopped fresh thyme
½ tsp salt
1 garlic clove
1 cup + ¼ cup Roasted Garlic and Chili Camelina Oil
Instructions
In a blender, combine water, lemon juice, Dijon mustard, thyme, salt and garlic.
Blend at highest speed until smooth. With the machine running on medium speed, drizzle the oil slowly through the feed tube. Turn the blender up to high and blend until smooth and creamy. Serve immediately or transfer to an airtight container and store refrigerated for up to 5 days.