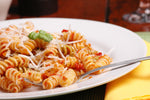 Ingredients
3 lbs fresh tomatoes of any variety
2 onions 1 diced, 1 roughly chopped to be oven roasted
4 cloves garlic, peeled and smashed
approximately 20 sprigs fresh thyme
15 spears of asparagus chopped into ½ inch pieces
1 cup butternut squash, diced
1 cup zucchini, diced
1 red bell pepper, diced
10 crimini mushrooms, sliced
Approximately 1 cup camelina oil
sea salt and pepper to taste
1 x 340 gram box of ancient grain rotini
150 grams chevre
Instructions
Preheat oven to 400 degrees Fahrenheit.
Place fresh tomatoes, 1 onion (roughly chopped), garlic, and thyme sprigs on baking sheet. With a heavy hand, drizzle camelina oil over the vegetables and season with sea salt and pepper. Roast in oven until onions are soft and tomatoes are exploding – approximately 30 minutes.
Cook and strain pasta as per instructions.
In a large sauté pan, heat camelina oil over medium-high heat and begin to pan roast the remaining vegetables, seasoning with sea salt and pepper as you go. Caramelize your onions and squash and then add your mushrooms, bell pepper, zucchini, and asparagus. Cook until all vegetables are at least al dente.
When the vegetables in the oven have finished roasting, take the pan out and allow it to sit for a few minutes. While the vegetables are cooling down, strip the thyme leaves off of the stems, making sure to discard all stems. Transfer all of the tomatoes, onion, garlic, oil, and thyme to a blender and mix until combined. Add 150 grams of chevre and blend until smooth.
Toss cooked pasta, pan-roasted vegetables, and sauce together. Adjust seasoning to your taste.
Serve with fresh bread and a salad for a complete meal.