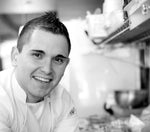 Recipe courtesy of
Chef Doug McNish
. This gluten free recipe for crisp kale pairs well with the mildly sweet and slightly salty drizzle of Asian inspired compound oil. Makes 4 appetizer portions
Ingredients - Chinese Five Spice Camelina Drizzle
1⁄4 cup Roasted Garlic and Chili Camelina Oil
1 tbsp Chinese Five Spice
1 tbsp wheat free tamari
1 tbsp finely sliced green onion, green parts only
1 tsp finel chopped ginger root
1 soaked pitted date
In a blender, combine Camelina Oil, Chinese Five Spice, tamari, green onion, ginger and date. Blend at high speed until smooth. Serve immediately or transfer to an airtight container and store refrigerated for up to 5 days.
Ingredients - Tempura Kale
1 cup quinoa flour (see notes, below)
2 tbsp nutritional yeast (see notes, below)
1 tbsp smoked paprika
1⁄2 tsp chili powder
1⁄4 tsp fine sea salt
3⁄4 cup cold water
1⁄4 cup ice cubes
2 cups Camelina Oil
1 head green curly kale, stems removed and torn into 2-inch pieces
In a mixing bowl, combine quinoa flour, nutritional yeast smoked paprika, chili powder and salt and mix well. Using a whisk, combine water and ice cubes into the quinoa flour mixture until well combined. In a heavy bottomed deep pot, heat the Camelina Oil on medium heat, about 7 to 8 minutes. Toss the kale in the quinoa batter and coat evenly. Gently place the coated kale leaves in the hot oil and cook for 2 to 3 minutes or until crisp and golden. Remove and drain in a bowl lined with a clean dish towel. Serve immediately drizzled with some Chinese Five Spiced Camelina Drizzle.
Notes
to make the quinoa flour for this recipe, place 3⁄4 cup white quinoa in your blender or clean coffee grinder. Process until flour like in consistency
nutritional yeast is a vegetarian food that can be purchased in most well stocked supermarkets or in your local natural food store
substitute an equal amount of brown rice flour for the quinoa flour in thisrecipe.