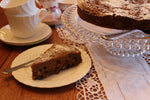 Recipe by
Voula Halliday
The inspiration for this comes from one of my favourite things: European olive oil cakes. I'm using Camelina Oil instead because it's such a natural compliment to the toasty flavour of the pumpkin seeds. This cake is made with simple ingredients and comes out moist and delicious, warming your mouth with small explosions of flavour from the dried cherries and spices. While it looks deep and rich it's surprisingly light, with only a hint of sweetness. It's a perfect cake to serve in the afternoon with a cup of black tea or an espresso. To make this cake extra special, serve it with a scoop of vanilla ice cream and a dollop of *Cherry Sauce—I've included the recipe below. Great for an occasion when you want to jazz this cake up a bit more.
Ingredients
¾ cup (175 mL) dried cherries
¾ cup (174 mL) boiling water
1 cup (250 mL) all purpose unbleached flour
1 tsp (5 mL) baking soda
½ tsp (2 mL) ground cinnamon
¼ tsp (1 mL) ground coriander
¼ tsp (1 mL) tsp ground ginger
¼ tsp (1 mL) tsp ground nutmeg
¼ tsp (1 mL) tsp ground black pepper
¼ tsp (1 mL) salt
zest of one orange
zest of one lemon
2 large eggs
½ cup (250 mL) pure maple syrup or honey
⅔ cup (150 mL) Camelina Oil
1 cup (250 mL) canned pumpkin puree
⅓ cup (75 mL) unsalted toasted pumpkin seeds
Heat oven to 325F (160C). Lightly spray or oil a 8 inch (2 L) square or 8 inch (20 cm) round cake pan and set aside. Stir dried cherries into boiling water and set aside. Using a whisk combine flour, baking soda, cinnamon, coriander, ginger, nutmeg, salt, pepper, the orange and lemon zest in a large bowl. In another bowl combine eggs and maple syrup using an electric mixer set on medium until lighter in colour and frothy. Slowly add the oil to the egg mixture, mixing until smooth, then add the pumpkin, until everything is well combined. Drain the cherries, setting the liquid aside (you can use it to make the *Cherry Syrup). Stir cherries and toasted pumpkin seeds into batter. Pour batter into prepared pan and bake in preheated oven for 40 minutes or until a toothpick inserted into the centre of the cake comes out clean. Allow cake to cool completely in the pan before removing to a serving dish. Sprinkle with icing sugar if you wish.
*Cherry Sauce
Zest and juice of 1 lime
2 cups (500 mL) fresh or frozen pitted sweet cherries
½ cup (125 mL) water
¼ cup (50 mL) pure maple syrup or honey
2 tbsp (30 mL) brandy or rum
To prepare cherry sauce, stir together the juice of one lime (set aside the zest for now), cherries, water, maple syrup and brandy in a small pot. Bring to a boil over medium high heat. Reduce to simmer until sauce has thickened, about 7 to10 minutes. Remove from heat. Cool to room temperature. Stir in lime zest. To serve, slice cake and top each serving with a scoop of vanilla ice cream and a large spoonful of cherry sauce.