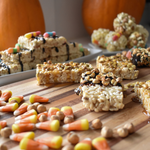 Ghou-
lentil
-ish Rice Krispie Treats
(Makes 24 small bars)
Ingredients
1/4 cup butter

5 cups miniature or 40 regular marshmallows

1/2 tsp vanilla extract (optional)

5 1/2 cups Rice Krispies cereal

1/2 cup

Three Farmers Roasted Lightly Salted Lentils
Instructions
In large saucepan over low heat, melt butter. Add marshmallows; stir until melted and well blended. Remove from heat.

Stir in vanilla. Add cereal and Three Farmers Roasted Lightly Salted Lentils, stirring until coated and combined.

Using a lightly buttered spatula, press into buttered 3.5L (13 x 9") pan. Cool. Cut into 24 bars.

* For a fun way to switch up these delicious squares, drizzle them in your favourite chocolate or caramel sauce and sprinkle with additional Lentils or crushed Three Farmers Roasted Chickpeas
Sweet + Salty Spooky Popcorn Balls
(Makes _ balls)
Ingredients
1/2

cup

P

opped Plain Popcorn

1/2

tsp

S

alt

1/4

cup

B

utter

(1/2 stick)

1

tsp

v

anilla

4-5

cups

M

ini Marshmallows

1/2 cup Three Farmers Lightly Salted Chickpeas

3/4

cup

Reeses Pieces

1/2

cup

Ca

ndy Corn

*Candy listed can be swapped out for preferred but similar candies in the same quantities
Instructions
Put popcorn in a large bowl and sprinkle popcorn all over with salt.
In a large pan over medium high heat, melt your butter. Add in your vanilla and marshmallows. Stir constantly till the marshmallows are melted and creamy.
Pour the marshmallow mixture over your popcorn and stir until popcorn is fully coated. Allow to set for a couple minutes, then stir in half of your Three Farmers Chickpeas, Reeses Pieces and Candy Corn.
Shape popcorn into balls. If the mixture is sticking to your hands, spray them with nonstick spray as needed. Press additional chickpeas and candies onto the outside of the popcorn balls.
Place balls on parchment paper and allow to set for about an hour and then enjoy!
Lentil Covered Apples
(4-8 wedges)
Ingredients
1-2 Granny Smith Apples, cut into four slices
1/2 melted chocolate or chocolate sauce of choice
1 cup Three Farmers Lightly Salted Lentils
4-8 Kabob skewers
Instructions
Pour chocolate sauce into a shallow bowl or plate.
Pour Three Farmers Lentils onto an additional shallow bowl or plate.
Stick apples on the end of each skewer and roll apple slices in chocolate and then roll them in Three Farmers Lentils.
Place on parchment lined countertop or plate and let sit for 5-10 minutes and enjoy!