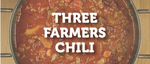 Ingredients:
1-1/2 lb Extra Lean Ground Beef
1tbsp Three Farmers Roasted Garlic and Chili Oil (or Three Farmers oil of your choice)
1 small Onion, chopped
2 ribs of Celery, chopped
2 Carrots, chopped
2 Cloves of Garlic, minced
2 tbsp Chili Powder
1 tsp Ground Cumin
1 /2 tsp Dried Thyme
1/4 tsp Pepper
1 can Crushed Tomatoes (28 oz.)
1 can Diced Tomatoes (28 oz.)
1 can Kidney Beans, drained and rinsed (19 oz.)
3 tbps Packed Light Brown Sugar
2 tbsp Worcestershire Sauce
Preparation:
In a large saucepan, or Dutch oven, brown beef over medium-high heat, breaking up with spoon. Remove to strainer to drain.
Add oil to pan, saute onion, celery, carrots, garlic, chili powder, cumin, thyme, and pepper until carrots begin to soften, about 8 minutes.
Stir in crushed and diced tomatoes, kidney beans, Worcestershire sauce, and beef. Reduce heat, cover, and simmer until celery is tender, about 20 minutes.
Serve in a hollowed out round loaf of sourdough bread, top with cheese, and sprinkle Three Farmers Sriracha Slap Pea Pops for some added crunch!