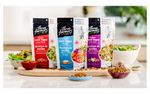 Looking to transform your everyday meals into extraordinary culinary delights? We've got just the thing to take your dishes to the next level - Three Farmers Crunchy Lentil Toppers!
A Burst of Flavour and Nutrition: Our lentils are grown with care on Canadian family farms, ensuring the highest quality. What sets them apart? They're roasted, never fried, and perfectly seasoned to create a symphony of flavours with every bite.
A Nutritional Powerhouse: If you're looking to boost your meals' nutrition, you're in for a treat. These lentil toppers are a natural source of plant protein, packing a mighty 12g per serving. Not to mention, they provide a generous 10g of dietary fibre, making your dishes not only delicious but also satisfying.
Variety to Satisfy Every Palate, Explore three mouthwatering flavours:
Smoky Bacon Flavour:

 Savour the rich and smoky essence that perfectly mimics bacon, adding a delightful twist to your salads and more.

Savoury Garlic & Herb:

 Elevate your meals with the aromatic blend of garlic and fragrant herbs, creating a symphony of flavours in every dish.

Classic Sea Salt:

 For those who appreciate the simplicity of a classic, this sea salt flavour will elevate your dishes with its timeless taste.
Ready to Elevate Your Culinary Game? If your taste buds are tingling and you're ready to embark on a flavour-packed journey, Shop Crunchy Lentil Toppers.