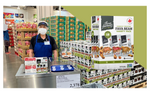 Exciting news is on the horizon! We're thrilled to announce that our Three Farmers Foods fava beans are soon to be found gracing the shelves of Costco Japan!
Our journey has always been about sharing the goodness of Canadian-grown ingredients with the world, and now, our flavorful fava beans are embarking on a new adventure in Japan. This is a significant milestone for us, and we're overflowing with gratitude for the opportunity to introduce our wholesome snacks to even more people around the globe.
A Celebration of Healthy Snacking and New Beginnings! 🌍
We extend our heartfelt thanks to all our supporters, near and far, who have been part of our journey. Together, we're redefining the snacking experience and promoting healthier choices, one delicious bite at a time.
Join us in celebrating this exciting new chapter as we continue to make wholesome snacking a global sensation!