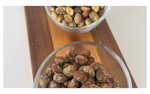 If you've recently opened one of our packages of favas and thought they looked a tad different, you're not alone! We're excited to share that we're gradually introducing a new variety of fava beans to our lineup. While they may have a slightly different appearance, rest assured that they deliver the same fantastic taste and texture you love, with the added bonus of being even higher in protein than our previous variety!
🌱 Embracing Change for Better Nutrition: We're always on a quest to provide you with the best possible products, and our new fava beans are no exception. Both varieties of fava beans, old and new, share some incredible qualities. They're rich in protein, fiber, and essential vitamins and minerals, making them a stellar addition to any healthy diet.
🌿 Spot the Difference: So, what's the difference with our new favas? The main distinction lies in the appearance. Our fresh batch of favas boasts a darker, more brown husk. However, rest assured, this cosmetic change doesn't alter their exceptional nutritional value or their versatility in the kitchen.
🥘 A Culinary Delight Awaits: Whether you're adding them to salads, enriching soups and stews, or serving them as a protein-packed side dish, these fava beans are ready to elevate your culinary creations.
In summary, we're thrilled to introduce our new fava beans, and we believe you'll find them even more delightful in every way. Keep an eye out for these little nutritional powerhouses on our shelves and get ready to enjoy the same great taste with a nutritious boost!