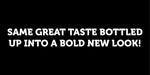 It's hard to believe it's been 5 years since we initially launched the first line of Three Farmers Camelina Oil available in Canada. In that time we have seen tremendous growth, demand, and awareness of this tasty and versatile culinary oil. Now, to mark our fifth year on the market, our Three Farmers Camelina Oil is undergoing a facelift and we are excited to announce that our new line of packaging will be officially launching in May 2015!!! We sought feedback from distributors, retailers, and customers over the years and implemented many of the suggestions we received. Here's the inside scoop into the process behind our updated new look! We approached this new design with our talented team by honing in on several key objectives:
Communicate the unique Three Farmers story to our customers and have consistency with our brand.
Make the labels eye catching, visually appealing, but also clean and easy to read.
Since we are proudly grown and made in Canada, place this prominently on the bottle.
Differentiate between the flavours of the oils and clearly show what they are best used for.
Create a new bottle that looks great sitting out on a counter or tucked inside a pantry
As you can imagine there was a lot of back and forth between all parties involved, including discussions on what looked best from a design perspective, to what is required for food labeling in Canada. Oh wait...did we mention that with all of that we also wanted the design to be fully bilingual?! One of our first goals out of the gate was to make sure anyone picking up this bottle understood they were holding "cold pressed camelina oil". Many people thought "camelina" was a brand of olive oil, so it is important that the product is easily identifiable as camelina oil; being that it is one of the Canadian Health Food Association's Hottest Food Trends for this year! We made use of strong photography as the feature image for the bottles and ensured that our logo is easy to read. We also want you to know what makes our Three Farmers Camelina Oil so good for you so our health and nutritional features are now front and center! Due to high amounts of Omega-3 and Vitamin E, our non-GMO product is the best oil for your pantry. The biggest change you will see is that a completely unique label design has been created for each of the three flavours of oils. They now have different but complementary coloured labels with their own images and suggestions for use. This allows you, our customer, to easily distinguish between your favourite flavours and provides tips on how to use them to enhance your culinary creations.
Original Camelina Oil: The only oil you need
Roasted Garlic & Chili: Perfect for pastas and stir frys
Roasted Onion & Basil: Perfect for salads & dipping
We are proud of the outcome. The design is bold and attractive and something that starts a conversation and can inspire your mealtime menu. Remember, it's just a fresh new look but the same great taste you have grown to love. We can't wait to hear from you as these new labels roll out onto store shelves at your favourite retailer and make their way into your kitchen!
Here are the old and new bottles: