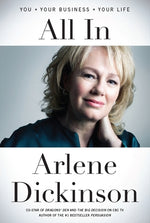 Saskatchewan Entrepreneur Highlighted
CEO of Three Farmers highlighted in Arlene Dickinson's new book,
All In
Saskatoon, Saskatchewan (February 5th, 2014) -
It's sometimes difficult for a Saskatchewan entrepreneur to be featured on a national front, but for Natasha Vandenhurk of Three Farmers, she and her company are seeing yet another success. Three Farmers camelina oil first came on the national media scene in 2012 when they were featured on CBC's the Dragon's Den. Since then Vandenhurk and her team have been growing and spreading Three Farmers camelina oil across the country. Their product is now found in over 800 retailers across the country. Dickinson's author, Wendy Dennis, drew upon the entrepreneurial community to help tell the story of what it means to be a successful entrepreneur. Dickinson delves into the specifics on how to handle the hype, naysayers and how to get a business off the ground. Vandenhurk was contacted by Dennis, the book's author, for perspective on her own experiences as an entrepreneur. At the time that the book was being written, Vandenhurk was expecting her first child, the Three Farmers episode of the Dragon's Den had just aired and the business was growing so rapidly on a daily basis that it was hard to keep things all in line. "
Natasha hoped her baby would be a good sleeper, in which case she hoped to continue to work, though much less intensely, between feedings and also in the evenings."
The book highlights this mythical balance between work and home life as an entrepreneur; it highlights the personal sacrifices, not to mention the personal growth that needs to happen to keep life on track. Vandenhurk's son is now 1 year old and it is a challenge to juggle her time between work and home life. There is a lot of travel when you have retailers spread across the country and trade shows to attend. But as Dickinson's book explains, when you are all in, everyone surrounding you is along for the ride. "To be showcased in Arlene's book is extremely flattering. She became an excellent mentor to us," said Vandenhurk. All of the obstacles that Vandenhurk has experienced along the way have made her the entrepreneur she is today.
"Hearing "no" over and over can be soul-destroying. Or it can be the making of you, as it was for Natasha, who traces her resilience and conviction directly to learning how to process rejection."
Find Vandenhurk's Three Farmers products in retailers across the country or purchase online at www.threefarmers.ca.