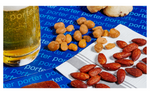 At Three Farmers, we are "grounded in goodness," but today, we're excited to announce that we are taking to the sky with Porter Airlines! ✈️
Porter Airlines has unveiled the details of their updated in-flight service offerings, which will be available starting in February. Three Farmers is thrilled to share that our Zesty Cheddar Roasted Favas are one of the delicious, high-quality snacks that will be available. 
When selecting partners, Porter wanted to bring in 100% Canadian companies that use quality ingredients and focus on sustainability. We're thrilled to be included with so many other notable Canadian companies!