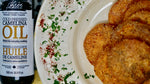 Cornmeal Crusted Tomatoes
by Doug McNish
This recipe is a great way to make crispy tomatoes that can be served as a side dish all year round. If green tomatoes that grow at the end of the season are available, then those are perfect, otherwise use a firm unripened hot house tomato in its place. Double or triple this recipe as necessary or desired.
-Makes 4 side portions
Ingredients
1/2 cup coarse cornmeal
1 tablespoon garlic powder
2 teaspoons whole fennel seeds
1/2 teaspoon sweet paprika
1/4 teaspoon fine sea salt
2 large green or unripened hot house tomatoes
Enough Three Farmers Camelina Oil to shallow fry the tomatoes, about ½ cup or so !
Instructions
In a bowl mix together the cornmeal, garlic powder, fennel seeds, paprika and salt until well combined.
Remove the core from the tomatoes and slice into ½-inch thick slices. Dredge each tomato slice in the cornmeal mixture so it is completely covered.
In a large pan, preferably non-stick, heat enough Three Farmers Camelina Oil on medium high heat so it covers the bottom of the pan by ½-inch or so.
Lay the slices of tomato into the pan and cook on the first side until brown and crispy, about 2 to 3 minutes. Flip and continue to cook on the other side until brown and crisp, about 2 more minutes. Serve immediately with your favourite meal, or on its own drizzled with your favourite sauce. Enjoy!