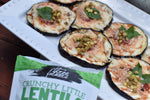 Grilled Eggplant Pizza Minis / Stack
by Elysia Vandenhurk
Ingredients
Medium sized eggplant, sliced in 1 inch rounds
Three Farmers Camelina Oil
Fresh basil
Shredded Mozzarella Cheese
Shredded Parmesan Cheese
(Substitute Vegan Cheeses for Vegan)
Sauce:
1 tbsp Three Farmers Camelina Oil
½ white onion, small dice
4 cloves garlic, crushed
2 cups crushed tomatoes
1 tbsp dried basil
1 tbsp dried thyme
1 tsp oregano
Salt and pepper, to taste
Instructions
Preheat the BBQ to medium heat. Drizzle the eggplant slices with Camelina Oil and season with salt and pepper.
Lie the slices directly on the grill and cook approx. 8min.
Meanwhile, making the sauce:
Sauté the onion and garlic in Three Farmers Camelina Oil until lightly browned, add crushed tomatoes and spices. Stir and bring to a light simmer for 10min. Season with Salt and Pepper to taste.
Flip the Eggplant on the grill and add a spoonful of sauce and a generous amount of cheese. Close the lid and let the cheese melt for approx. 5min.
Once the eggplant is tender and the cheese has melted the pizza minis are ready to serve.
Serve as an appetizer or Stack for a meal size!
Add some fresh basil and some protein, fun and crunch with Three Farmers Garlic and Herb Crunchy Lentils!