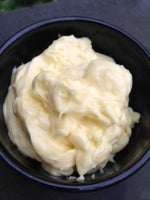 Recipe courtesy of
Shirley Plant
.
Ingredients
1 egg yolk
1 tbsp water
1 tbsp lemon juice
3/4 cup camelina oil
2 roasted garlic cloves
Salt to taste
In a glass jar put egg yolk, water and lemon juice. Slowly pour in oil while blending with a hand held blender. Mixture should thicken. Add in salt and garlic towards end of blending. Keep in fridge.