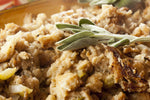 This sweet and savory combination of earthy notes from the Three Farmers Camelina Oil and sage is the perfect complement to your Thanksgiving and holiday dinners. It's also vegan and gluten free! Follow the recipe below and add any other favourites you might have like cranberries, currants or nuts.
Ingredients for Corn Bread:
Make this a day ahead and leave to sit on the counter over night uncovered.
1 cup corn meal
1 cup corn flour (much more fine than corn meal)
1 tbsp. baking powder
1/4 raw sugar
2 tbsp. potato starch
1 tbsp. salt
1/4 cup Three Farmers Original Camelina oil
3/4 cup almond milk
1/2 cup vegan margarine (room temp)
Corn bread Method:
Mix all dry ingredients in your mixer on medium and slowly add the margarine and liquid ingredients until it is just incorporated, do not over mix. Place in an oiled baking pan. Bake at 350 for 25-30 minutes or until tooth pick comes out clean.
Ingredients for stuffing:
1 cup vegetable stock
1/4 white wine
2 tbps vegan margarine
1 tbsp. salt
2 tbsp. chopped fresh sage
1 cup brown button mushrooms
1 whole brown onion chopped
2 cloves garlic
1 tsp fresh ground nutmeg
1/2 cup thawed, drained frozen cranberries
pre baked corn bread
*optional: raisins, currants, walnuts, almonds etc.
Stuffing Method:
In a sauce pan, sauté your onions and garlic. Once transparent, add your mushrooms and brown. Then add the white wine, sage, and cranberries and salt and reduce for 5 minutes. Take the cornbread and cut into one inch cubes and add them to saucepan. Mix the bread with the rest of the sauce pan mixture and slowly start to add your stock. You want the consistency to be soft, but also maintain the structure of the cornbread. Don't over mix or it will go mushy. This is best served right away, so once it's heated and the cornbread has absorbed the stock, it will be good to go! Garnish with a drizzle of camelina Oil, fried sage leaves and chopped walnuts.