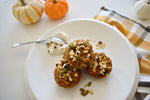 Ingredients
1 Cup Pumpkin Puree
½ Cup Dark Brown Sugar
1 tsp Vanilla
1 tsp Cinnamon
½ tsp Ground Nutmeg
¼ tsp Ground Clove
½ tsp Ground Ginger
1 tsp Salt
1 tsp Baking Soda
1 tsp Baking Powder
2 Large Eggs
⅓ Cup Three Farmers Original Camelina Oil
1 Cup Whole Wheat Flour
1 ½ Cups Quick Cooking Oats
½ Cup Raisins
Instructions
Preheat the oven to 350 degrees.

In a medium bowl combine the flour, oats, baking soda, baking powder, salt, cinnamon, ginger, clove and nutmeg.
In a large bowl combine the pumpkin puree, vanilla, eggs and the Three Farmers Original Camelina Oil.
Add dry ingredients to the wet and mix until combined. Add raisins and mix until combined.
Evenly distribute the batter into a 12 muffin tin and bake in the oven for 20 minutes.