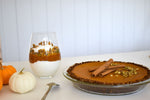 Ingredients
3 ½ Cups Old Fashioned Oats
¾ Cup Three Farmers Crunchy Little Lentils - Lightly Salted
1 Cup Pumpkin Puree
⅔ Cup Dark Brown Sugar
¼ Cup Maple Syrup
¼ Cup Three Farmers Original Camelina Oil
1 tsp Vanilla Extract
½ tsp Salt
1 ½ tsp Ground Cinnamon
1 tsp Ground Ginger
1 tsp Ground Nutmeg
¼ tsp Ground Cloves
½ Cup Pumpkin Seeds
Instructions
Preheat oven to 300 degrees.
Measure out the pumpkin puree and place into a medium sized bowl lined with cheesecloth. Wrap the cheesecloth around the pumpkin puree and squeeze to release the excess liquid. Discard all excess liquid and place the puree into the mixing bowl
Add brown sugar, maple syrup, Three Farmers Original Camelina Oil, vanilla, salt, cinnamon, ginger, nutmeg and cloves to the bowl with the pumpkin and mix well.
Add the oats to the pumpkin mixture and mix until the oats are fully covered. Spread the pumpkin covered oats evenly onto a parchment lined baking sheet and place in the oven. Bake the oats for 45 minutes while ensuring the oats are stirred every 15 minutes to prevent burning.
After 45 minutes, add the Three Farmers Crunchy Little Lentils - Lightly Salted and pumpkin seeds to the oats and bake for another 15 minutes. Allow granola to cool completely before transferring to an airtight container.