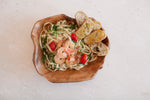 Serves 4
Ingredients
60g Basil (about 2 large hand fulls)
½ cup Toasted Cashews
2 tbsp Lemon juice
3 Garlic cloves
½ cup Parmesan cheese
1 cup Three Farmers Camelina Oil
½ cup vegetable stock or milk
12 shrimp, cleaned
1 tbsp Roasted Onion and Basil Camelina Oil
3-4 cups cooked linguini noodles
Instructions
Toast the cashews until lightly browned in the oven or on the stove top. Toss basil, garlic, cashews, cheese and lemon juice into a food processor and puree together. While processing, add the camelina oil slowly.
Bring a pot of lightly salted water to a boil for the pasta and pre heat the grill for the shrimp.
While cooking the pasta, toss the shrimp in 1 tbsp of onion and basil camelina oil. Skewer the shrimp for the grill.
In a sauce pan, heat ½ cup of pesto and ½ cup of vegetable stock or milk. Whisk together and simmer to reduce slightly.
Now, Place the shrimp skewers on the grill and cook for About 3 minutes on each side.
Once the pasta is cooked, strain it and toss it into the sauce pan with the pesto.
Stir, season with salt and pepper and serve with your shrimp skewers.
Put the leftover pesto into ice cube trays and freeze them into small portions for next time.