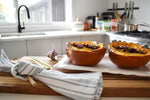 Makes 2.5L
Ingredients
4 cups pumpkin puree, unsweetened
3 large carrots, peeled and diced
2 tbsp Three Farmers Camelina Oil
1 tbsp fresh ginger, peeled and chopped
2 cloves of garlic, peeled and chopped
1 sprig fresh lemon grass, cut and slice into large pieces (for ease of removal after infusion)
2 shallots, peeled and chopped
1 can of coconut milk
2 tsp cloves
2 tsp all spice
1 tsp nutmeg
2L Vegetable Stock
Salt and Pepper, to taste
Three Farmers Crunchy Little Lentils
Dried, sweetened cranberries
Instructions
In a large soup pot, on medium heat, saute the garlic, ginger, shallot and diced carrot until lightly browned. Stir in pumpkin and spices and then add coconut milk and vegetable stock. Add in Lemon Grass pieces and bring soup to a boil and reduce to simmer. Simmer for 25 min to infuse the ingredients. Shut the heat off and let sit for an additional 20 min to infuse before next steps.
Next, remove the lemon grass pieces, then puree the soup in a Vitamix until desired texture. Add more water or coconut milk if you desire a thinner soup.
To serve: Pour the soup into your favorite bowl and top with Three Farmers Crunchy Little Lentils and some sweetened, dried cranberries.