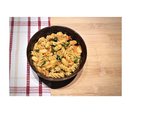 Ingredients
3 Cups Cooked Fusilli Pasta, reserve ½ cup of the cooking liquid
1 Medium Onion, Diced
4 Cloves of Garlic, Minced
4 Cups Cherry or Grape Tomatoes
¼ Cup of Your Favorite Pesto
2 Slices of Low Sodium Bacon, diced
1 Can White Kidney Beans, Drained and Rinsed
3 Cups Baby Spinach
2 Tablespoons Three Farmers Foods Original Camelina Oil
1/3 Cup of Fresh Grated Parmesan Cheese
Instructions
Set a large skillet on medium heat, once it has come to temperature add the 2 Tablespoons of Three Farmers Foods Original Camelina Oil, the diced bacon, diced onion and minced garlic. Sauté together until the onions have become transparent and the bacon has cooked.
Add the can of rinsed and drained white kidney beans and sauté for another 5 minutes.
Add the cherry or grape tomatoes. I prefer to add them whole however, you can cut them in half or in quarters if you prefer.
Add the baby spinach and the pesto sauce, reduce the heat and simmer until the spinach has completely wilted and the tomatoes have reduced in size and a sauce has started to form.
Add the cooked fusilli and the ½ cup of the water used to cook the fusilli. Combine the pasta with the sauce. Serve and top with grated parmesan cheese.
*For an extra burst of flavor, try topping your Creamy White Bean and Pesto Fusilli with Three Farmers Foods Garlic and Chili Camelina Oil!
Recipe compliments of Three Farmers dietitian - Heather Deck, RD