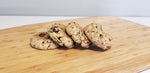 Ingredients
1 ¼ Cup Rolled Oats
1 Cup Whole Wheat Flour
1/2 Cup Dark Chocolate Chips
1/3 Cup Hulled Pumpkin Seeds
1/3 Cup Hulled Sunflower Seeds
¼ Cup Whole Flax Seeds
1/3 Cup Three Farmers Foods Original Camelina Oil
½ Cup Dark Brown Sugar
1 Egg
2 teaspoons Vanilla Extract
¾ teaspoon Baking Powder
½ teaspoon salt
Instructions
Pre-heat the oven to 350 degrees and line a cookie sheet with parchment paper.
In a large mixing bowl, whisk together the Three Farmers Foods Original Camelina Oil, dark brown sugar, the egg, vanilla extract and salt.
Add in the whole wheat flour, rolled oats, and baking powder. Combine until the dry ingredients have fully incorporated.
Add the dark chocolate chips, the hulled pumpkin seeds, hulled sunflower seeds and whole flax seeds. Mix until everything is evenly dispersed throughout.
Use a Tablespoon to portion out individual balls of the cookie dough and place on the cookie sheet making sure to leave space in between each ball.
Bake the cookies for 8 – 12 minutes or until the cookies have become golden brown.
Recipe compliments of Three Farmers dietitian - Heather Deck, RD