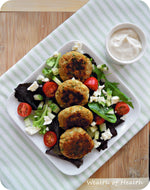 This delicious and easy recipe for protein packed falafel is care of Carolyn Berry, a Registered Dietitian in Vancouver, BC who is the creator of
Wealth of Health
, a blog full of wonderful recipes and tips on how to live a healthy and balanced life style. These yummy morsels are great on their own or can be added to salads or wraps for an extra protien and fibre boost. Carolyn proves that healthy eating can be rewarding not only for the health of your body but the happiness of your taste buds too! Makes approximately 15 falafel patties
Ingredients
Falafel:
2 cups cooked chickpeas (or 19 oz/540 ml can rinsed and drained chickpeas)
1 onion, chopped
3 garlic cloves, peeled
2 tbsp chopped fresh parsley
1 tsp ground cumin
1/4 tsp salt
1/4 tsp pepper
1 tsp lemon juice
1/3 cup whole wheat flour (plus extra if needed)
1 tsp baking powder
Three Farmers Camelina Oil, for frying
Tahini Yogurt Sauce:
1/2 cup plain yogurt
1/4 cup tahini
2 tbsp lemon juice
1 clove garlic, minced
1/4 tsp salt
1/8 tsp cayenne pepper
Directions
Place the chickpeas, onion, garlic, parsley, cumin, salt, pepper, and lemon juice in the bowl of a food processor and pulse until just combined (still chunky).
Add the flour and baking powder and pulse until mixture is still chunky and can be rolled into balls without it sticking to your hands. (Add another spoonful or so of flour if you need to).
With your hands, roll the mixture into golf ball-sized balls and flatten into patties.
Heat 1-2 tbsp of camelina oil in a large frying pan. Cook the falafel patties for a few minutes per side without crowding the pan, until they're nicely golden. Add more oil as needed. (I do 2 or 3 separate batches in the pan).
Mix all ingredients together for the tahini yogurt sauce.