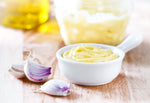 Makes 1 cup - maybe you should double the recipe, it is so good.
Ingredients
1 clove garlic
2 pinches salt
2 pinches cracked pepper
1-2 egg yolks
1 tablespoon lemon juice
1 tsp dijon mustard
3/4 cup camelina oil
Cut the ends off of the garlic, peel it, and either chop it or put it through a garlic press. In a heavy mixing bowl, whisk (you can use an electric whisk) the egg yolks, lemon juice, and garlic mixture together until well combined, about one minute. Start adding the camelina oil, drop by drop, whisking all the while. You can add it a bit faster as you go along, but as with mayonnaise, the key to success is going very slowly at the start. When you are done adding the oil you can adjust the seasoning as suits your taste. Try this: Peel, cut, oil with camelina and roast stick fries of sweet potato; OR slice thin on a mandeline and fry in a shallow amount of Camelina oil to create a chip to then dip in the garlic aioli. Great party snack!! Add a generous amount of dill and another tablespoon of lemon to dip your shrimp or garnish your baked fillet of fish.