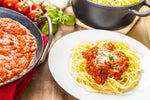 Recipe courtesy of
Sorrentino's in Edmonton, AB
.
Ingredients
1 tbsp Camelina oil
1 large Vidalia onion, coarsely chopped
2 garlic cloves minced
1 28oz/796ml can of diced tomatoes with juice
1⁄2 cup of water
1 tsp salt
1 tsp dried oregano
1 tsp dried basil
1⁄2 tsp black pepper
1⁄2 tsp dried thyme
1 large red bell pepper, coarsely chopped
1 large carrot, sliced
1 large zucchini, coarsely grated
In a large pot, add oil and onions to the pot and cook until the onions are translucent. Add garlic and sauté for 1 minute. Add remaining ingredients and cook until the vegetables are cooked. Stir occasionally. Serve over pasta.