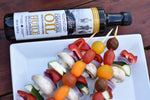 Grilled Summer Vegetable Skewers
Ingredients
Three Farmers Camelina Oil
Zucchini
Button Mushrooms
Red Onion
Bell Pepper
Cherry Tomato
Salt and Pepper, to taste
Instructions
Prepare the vegetables by cutting all to similar size, keeping cooking time of each in mind.
Prepare the tomatoes on separate skewers as they will take less time and you don't want them to burst.
Preheat the BBQ to Medium heat.
Generously coat the vegetable skewers with Three Farmers Camelina Oil and season with salt and pepper to taste.
Place on the grill and cook until lightly charred and tender, turning once or twice during cook time!