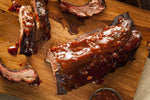 Ingredients - Dry Rub and Ribs
1tbsp Three Farmers Camelina Oil (try the Three Farmers Garlic and Chili Camelina oil)
2 1/2 tablespoons kosher salt
1 tablespoon dry mustard
1 tablespoon paprika
1/2 teaspoon cayenne pepper
1/2 teaspoon freshly ground black pepper
8 pounds baby back pork ribs (8 racks) or St. Louis-style spareribs (4 racks)
Ingredients - Honey Garlic BBQ Sauce
4 tbsp Three Farmers Camelina Oil
5 cloves of garlic, minced
1 shallot, minced
1 bay leaf
2 tbsp apple cider vinegar
1/3 cup honey
1 tsp garlic powder
2 cups tomato sauce (freshly made, jarred or canned)
sea salt & pepper
Instructions
Preheat oven to 350°F. Combine the rub ingredients in a bowl and rub into the pork ribs. Wrap racks individually in double layer of foil and divide between 2 baking sheets. Bake ribs until very tender but not falling apart (approximately 2 hours for baby backs and 3 hours for spareribs).
Remove the ribs from the foil wrap and save the juices aside to add to your BBQ sauce. Cool the ribs in the refrigerator, while you prepare your sauce.
TIP: Thoroughly cooling the ribs before grilling with the bbq sauce helps to ensure the ribs will not fall apart on you. The baking process, to get the ribs tender, can be done a few days in advance. The point is to get the meat tender, then the saucing and grilling is to rewarm them to serve.
Honey Garlic Sauce
Heat camelina oil in a saucepan over medium heat. Add garlic, shallot, and bay leaf - sauté until soft. Add apple cider vinegar - reduce for a minute or two. Add honey and garlic powder – stir to combine. Add tomato sauce - bring to a boil. Add juices from the baked ribs. Add sea salt & pepper to taste. Reduce heat and simmer sauce for approximately 20 mins.
To Grill
Heat up the BBQ and oil the grill. Brush a generous layer of sauce onto your cooled racks of ribs and place on the bbq. Continue basting with sauce as the ribs warm and sear on the grill (approximately 20mins.).
Serve.
TIP: Save and use the remaining sauce for chicken drumsticks, wings or even fish.