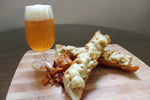 Melting Tuna Baguettes
A sustainable seafood and Canadian grown version of the good old stand by Tuna Melt that mom used to make!
*** Preheat oven to 350°F
Ingredients (makes 2 open faced tuna melts)
1 can Ned Bell's Tuna-drained. Sold at The Fish Counter, Vancouver
½ french baguette
¼ cup shredded Cave Aged Gruyere
¼ cup shredded Alpindon (BC, Kootenays cheese) OR Swiss Cheese
½ Granny Smith Apple, diced
1 tbsp jarred capers, chopped fairly fine
1 sprig fresh Dill
Aioli:
1 large egg
1/2 cup Three Farmers Original Camelina Oil
1 clove garlic
2 medium sprigs fresh Dill, de-stemmed
1 table spoon lemon juice
Salt and pepper to taste
Method
To make your aioli for the tuna salad: Combine egg, garlic and Dill in a food processor until combined. With the processor on medium, stream in the Camelina Oil very slowly and add your salt and pepper to taste. Once you have a smooth emulsion, remove from the processor and gently stir in the lemon juice. ** You can also do this without a food processor in a metal bowl with a whisk, it just takes a little more elbow grease! Reserve 1-2 tablespoons of aioli and mix the rest of it with Ned's tuna. Add your apple and capers, combine well. Cut the baguette in half, length wise so you have 2 open faced pieces. Spread reserved aioli on both halves, and equally portion out tuna salad onto each. Top with grated Cave Aged Gruyere and Alpindon (or Swiss), season with fresh cracked pepper. Place them on a baking sheet and bake at 350°F on the middle rack for about 10 minutes or until the cheese is melted and the edges of the baguette are golden brown. ***This open-faced sandwich goes amazingly with Belgian beers such as Chimay or Leffe! For more information on Chefs for Oceans and Ned Bell's ride across Canada, click the link below to watch this video as Ned explains his upcoming journey and the reasons behind it all.
http://youtu.be/E2-lBFTxu08