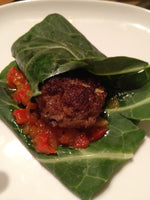 This burger is great with goat cheese or an aged, maple, smoked cheddar! Use your favorite aioli (mayo) to add some tang.
Ingredients - Burgers
3-4 lb ground hamburger (Saskmade)
1/2 white onion, minced
3 cloves garlic, minced
4 tbsp Three Farmers Roasted Garlic and Chili Camelina Oil
2 eggs
3 tbsp steak spice
1 tbsp chili powder
1 tbsp ground caraway
2 tsp Worcestershire
4 tbsp BBQ sauce
2 tbsp dijon mustard
2 tbsp ketchup
2 cups ground rice crackers
Mince onion and garlic and crush the rice crackers (food processor works well for this). Add all ingredients to thawed hamburger and mix thoroughly with hands. Shape into burgers and refrigerate. When ready to cook, throw on the bbq or sear on stove top and roast until cooked thoroughly through.
Ingredients - Chutney
2 diced red pepper
2 jalapeno pepper
2 diced tomato, cored and seeded
1⁄2 red or white onion, minced
3 tbsp Three Farmers Roasted Onion and Basil Camelina Oil
3 cloves garlic
4 tbsp brown sugar
2 tbsp maple syrup
2 tsp balsamic or cider vinegar
Salt and pepper
Core and remove tomato seeds to rid of additional liquid. Dice peppers, tomatoes, onion and garlic. Add 3 tbsp of Three Farmers Onion and Basil Camelina Oil to a sauce pan and sauté ingredients on high heat for a few minutes. Add sugar, syrup and balsamic, then simmer until it stews to a chutney/relish texture (about 15-20min), mixing occassionally. Season with salt and pepper and refrigerate to cool.
Ingredients - Gluten Free Wraps
collard leaves, cleaned and rinsed
These make amazing wraps for gluten free diets. Clean, rinse and cut out the stems. Use as needed to wrap up your burger!