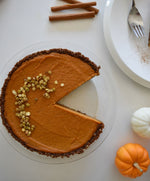 Ingredients
Crust
1 box of store bought gingersnap cookies (approximately 250g)
½ Cup of Lightly Salted Roasted Chickpeas
1 Tbsp Dark Brown Sugar
¼ Cup Unsalted Butter, Melted

Filling
2 Cups Pumpkin Puree
1 Cup Half and Half
½ tsp Ground Nutmeg
½ tsp salt
¾ Cup Dark Brown Sugar
2 Large Eggs
1 Large Egg Yolk
*Generous handful of lightly salted Crunchy Little Lentils

Instructions
1. Preheat oven to 350 degrees
2. Combine gingersnap cookies, roasted chickpeas and brown sugar in the bowl of a food processor and process until the cookies are a fine crumb. Add the melted butter into the crumb mixture and pulse until combined.
3. Press the gingersnap mixture into the bottom and up the sides of a standard pie plate and bake in the oven for 10 minutes. Let the crust cool for 10 minutes before filling.
4. In a medium sized saucepan, bring the pumpkin puree to a simmer while stirring continuously. Cook until the pumpkin has thickened slightly, about 2 to 3 minutes. Add the half and half, salt and nutmeg and return to a simmer while stirring continuously for another 2 to 3 minutes. Remove the mixture from the heat and allow to cool for 15 minutes.
4. Once the pumpkin mixture has cooled for 15 minutes, whisk in the brown sugar, eggs and egg yolk until smooth. Add the pumpkin mixture to the gingersnap pie crust and bake in the oven on a cookie sheet until the filling has set, about 45 to 50 minutes.