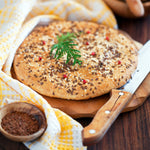 Recipe courtesy of
Matthew Kadey
.
Ingredients
1 whole garlic bulb
2/3 cup garbanzo bean (chickpea) flour
1/3 cup flax powder, preferably golden
2 tsp fresh thyme
1/4 tsp salt
1/4 tsp freshly ground black pepper
1 cup room temperature water
3 tbsp + 2 tsp Three Farmers Camelina Oil
Preheat oven to 400
°
F. Remove excess papery covering on the garlic bulb and slice off about 1⁄4-inch from the top so that most of the cloves are exposed. Place garlic on a piece of parchment paper or aluminium foil and drizzle with oil. Wrap tightly and bake for 30 minutes. Remove garlic from oven and place a 10-inch ovenproof (preferably cast-iron) skillet in the oven. Meanwhile, sift garbanzo flour and flax into a large mixing bowl. Stir in thyme, salt and pepper. Whisk in water and 3 tablespoons camelina oil until smooth with no lumps. The batter should be slightly thicker than typical pancake batter. If too thick, stir in more water 1 tablespoon at a time. Let mixture rest 30 minutes. Once cool enough to handle, squeeze roasted garlic pulp into a small bowl and mash with a fork. Stir roasted garlic mash into garbanzo mixture. Carefully remove warmed skillet from the oven, coat with remaining camelina oil and pour in the batter so that it covers the entire bottom of pan. Bake for 15 minutes, or until edges are set and batter is almost cooked through. Turn on the oven broiler and broil for 2 minutes, or until top of bread is spotty-brown. Flatbread should release easily from skillet onto a cutting board. Cut into wedges and serve hot.