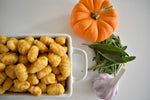 by Heather Deck, RD, BSc AHN
Ingredients
1 ½ cups All-Purpose Flour

1 Large Russet Potato, Peeled and Cut into large pieces

1 cup Pumpkin Puree (fresh or canned)

4 Tbsp Three Farmers Camelina Oil

20 fresh Sage Leaves

2 cloves Garlic, minced

1 tsp Black Pepper

1 tsp Salt
Instructions
Place potatoes in a medium pot with enough water to cover the potatoes and bring to a boil. Lower the temperature and continue to simmer until the potatoes are soft. Once potatoes are fully cooked, set aside ½ cup of the cooking liquid and drain the rest. Set aside the potatoes until they have cooled to room temperature.

Once the potatoes have cooled, mash up the potatoes until smooth. This can be done with a hand masher, a hand blender, or a food processor. It is important to make sure there are no lumps.

When the potatoes are smooth, add the pumpkin mixture and salt and mix.

On a clean countertop that has been gently floured, place the mashed potato and pumpkin mixture and sift the remaining flour on top of the potato mixture.

Begin mixing the mixture together until a smooth dough is formed. If the dough is too wet, add more flour in 1 Tbsp increments and if the dough is too dry, add the reserved potato liquid in 1 Tbsp increments until you reach the desired consistency.

Once you have reached the desired consistency, cut the dough into ¼ pieces and begin rolling each ¼ into a ½" thick rope on a floured surface. Using a sharp knife, cut the rope into small pieces about the size of your thumbnail. If you notice the dough sticking to the knife, dust the knife in flour.

Bring a large pot of water to a boil.

Prepare the sauce by heating a skillet over medium heat. Add in the Three Farmers Camelina Oil. Once the oil has heated, add in the minced garlic and sage leaves and cook for 2 – 3 minutes until you can smell the garlic and sage. Remove from heat.

Once the water is boiling, add salt. Add the gnocchi making sure that they do not stick to each other. You will know the gnocchi is done when they begin to float to the top of the pot.

Using a slotted spoon, place the cooked gnocchi into the skillet with the garlic and sage oil. Place back on medium heat and cook until the gnocchi has crisped up. Add black pepper and serve.