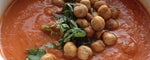 Ingredients (serves 6)
6 - 8 vine ripened tomatoes
3 red bell peppers
8 cloves garlic
6 tbsp Three Farmers Camelina Oil
1/2 yellow onion chopped
2 tsp chili powder
1/4 cup red wine
1½ cups vegetable broth
Fresh chopped basil and Three Farmers Roasted Chickpeas for garnish
Roasting Instructions:
(Roasting is a fantastic way to sweeten vegetables and gives a better rounded flavour to this soup) Pre-heat over to broil, core and slice the tomatoes and place onto a sheet plan lined with parchment paper; drizzle with camelina oil and season with salt and pepper. On a separate, lined pan, quarter the red bell peppers and remove the core and seeds and place skin side up; drizzle with camelina oil and season with salt and pepper. Clean and peel 8 cloves of garlic. Leave whole and toss in with the peppers. Place each sheet pan in the oven to broil for 12 mins on high (a nice charred colour is good), then continue to roast on 400 degrees F for 12 mins, until the garlic is golden and the peppers and tomatoes are soft.
Soup Instructions:
On the stove top, heat 4 tbsp camelina oil into a soup pot. Toss in the sliced onions and cook until slightly browned. Stir in 2 tsp chili powder and then deglaze the pan with 1/4 cup of red wine. Let this reduce for 2 min (cooking off the alcohol flavor) and then add vegetable broth and whisk in the crushed tomatoes. Bring this to a light boil and then reduce to medium to simmer. Once the tomatoes, peppers and garlic are nicely roasted, remove the pans from the oven and transfer the vegetables to the soup pot. Be sure to pour the juices from the pan into the pot as well as they will carry plenty of flavor. Puree the soup to desired consistency in a blender and/or food processor. Season with salt and pepper and serve (or cool and refrigerate for another time). Garnish with fresh chopped basil and top with Three Farmers Roasted Chickpeas for a delicious crunch.