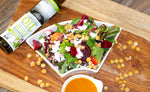 Thanks to
My Awesome Foods
for this great recipe using both Three Farmers Roasted Chickpeas and Camelina oil.
Ingredients
4 cups of spinach
4 cups of beet tops
2 medium sized beets
½ can of black beans
2 cups of cherry tomato's diced
¼ cup of goats cheese
1 cup of Three Farmers Lime and Sea Salt Roasted Chickpeas
Dressing
:
¼ cup of Three Farmers Roasted Onion and Basil Camelina Oil
½ tbs of Apple cider vinegar
½ a lime (juice of)
½ tbs of yellow mustard
½ tsp of smoked paprika
½ tsp of Ancho Chilli Powder
1 tbs of honey
3 cracks of pink Himalayan salt
½ tsp of pepper
Slice your beets in half and then into approx ½ cm thick slices – steam until soft. Set aside to cool
Place your beet tops, spinach, black beans, tomato's and goats cheese into a large bowl with your beet slices and toss with approx 2 tbs of your dressing.
Remember not to over dress (less is better) and top with your delicious Roasted Chick Peas for that amazing crunch.
This recipe is packed with protein, with the earthy flavours of the Camelina oil complementing the beets – followed by a flavour punch of zest from the dressing and chickpea combo. Top this beauty with any BBQ'd meat protein or leave it as is.